Welcome!
The Department of Preschool Education and the Department of Philology (Linguistics Section) of the University of Crete are pleased to host the 7th International Conference on Modern Greek Dialects and Linguistic Theory (MGDLT7) which will be held on 06-08 October 2016 in Rethymno, Crete.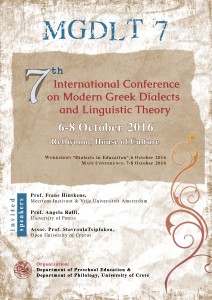 The MGDLT7 continues the tradition of the past conferences* for the promotion of the linguistic research in Modern Greek dialects.
* Past MGDLT conferences:
2000 Patra, 2004 Μytilene, 2007 Nicosia, 2009 Chios, 2012 Ghent, 2014 Patra
Papers are invited to be submitted in all areas of research in Modern Greek dialects, such as:
phonetics, phonology, morphology, syntax, semantics, pragmatics, discourse analysis, lexicology, psycholinguistics, sociolinguistics, historical and contact linguistics and issues of education.
WORKSHOP
The main conference will be preceded by a workshop with the theme "Dialects in Education" on October 6th, 2016.
Invited Speakers
| | | |
| --- | --- | --- |
| Funded by | | |
| UNIVERSITY OF CRETE |   | |
Sponsors